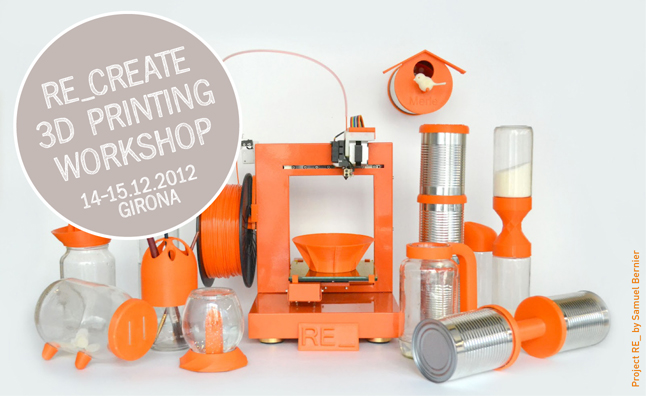 Scan, model and 3D print!
–
We organize a 2 days workshop focused to introduce participants to the "maker revolution or DIY movement" that is becoming around the world, learning and understanding the possibilities of digital creation and production through open software, online resources, digital tools and 3D printing. Along the two sessions we apply the potential of new technologies for digital creation in a practical way with projects that follow the 4R ecology concept (Reduce, Reuse, Recycle and Replace) focusing on rethinking everyday objects to give them a second use.
–
Schedule & Timetable: Friday 14th December. From 18h to 21h. & Saturday 15th December. From 10h to 13h (6 hours).
–
Price: € 60. Free for GIDI members (Associació del Disseny de Girona).
–
Entry requeriments: Maximum 20 places. Open to creative people with an interest in digital creation and new technologies. Participants must bring their laptop, and optionally a smartphone, tablet and/or a device for taking photos. All participants will receive the links to download open software to begin the workshop. Each participant can pick up their creation.
–
Where: Parc Científic i Tecnològic de la Universitat de Girona
–
Inscriptions: click here
–
Tutors: Growthobjects is headed by Jordi Bayer, Katia R.Glossmann and Xavier Tutó, since 2009 they work in the implementation of proposals and projects focusing on design solutions based on principles of biomimicry, highly complex natural geometries (HICONG), morphogenesis, fractal, algorithmic programming, additive manufacturing technologies, customization, among other lines of interdisciplinary research. From the capacity to reveal the diversity of possibilities for imitation and reinvention of nature and thus open new perspectives, new solutions and new applications, focusing on the union of DESIGN + SCIENCE (NATURE) + ART by using computational tools and Additive Manufacturing Technologies. Their innovative works have been selected to be present in fairs, exhibitions and lectures of international scope, and they have given classes and workshops in various universities and design centres. In 2011, Growthobjects has been invited as speaker to the 6th International Conference on Additive Manufacturing, at Louhborough University (UK) and to the 4th Edition of Additive Manufacturing.
–
Organized by Growthobjects and supported by GIDI (Associació del Disseny de Girona).
–
Download PDF file
–
More info: workshop@growthobjects.com
–
Watch some photos and the video. Thanks all!!