Client:

ELISAVA
Date:

July 26, 2013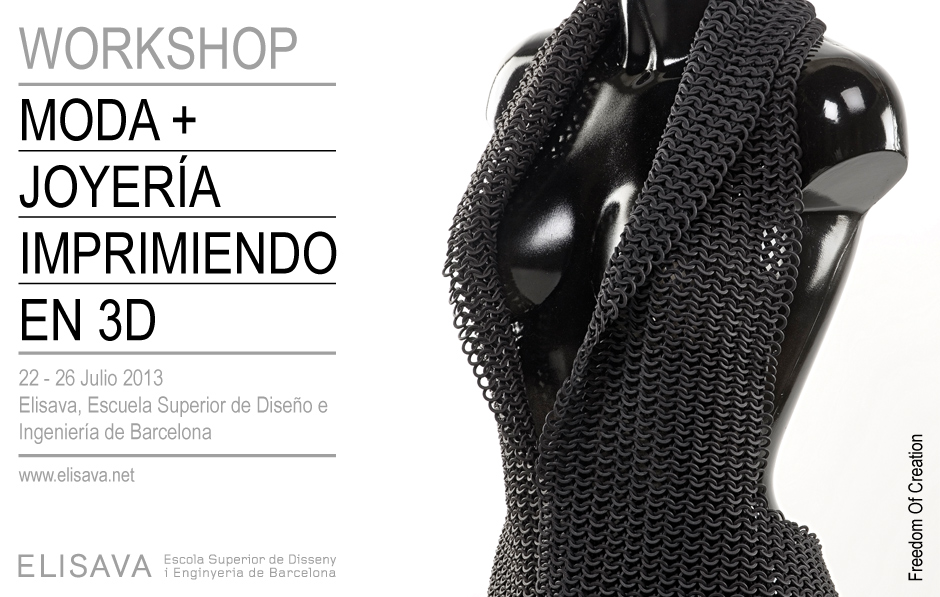 FASHION AND ALTERNATIVE JEWELRY, PRINTING IN 3D
–
5 days workshop focused on apply fashion and jewelry design along digital creation through direct manufacturing. The workshop was held at Elisava, Barcelona School of Design and Engineering in July 2013.
–
Duration
5 sessions of 4 hours / 20 hours
–
Credits
Organizer: Elisava, Barcelona School of Design and Engineering.
Colaborators: Jan Iu Més – Fashion designer and Raimon Esquerra – Jewelry designer.
Supported: EntresD
–
BOOK NOW
–
First Day
We began sharing and discussing the design brief with the participants, around the design of a body ornament inspired in some way on the african ethnology. A brainstorming session introduced some suggestive fashion and jewelry images mixed with the advantatges of design trough Direct Digital Manufacturing.
–
Second Day
All together searched images and we created moodboards to help us to select the initial concepts. Along the afternoon, we showed some examples of additive manufacturing pieces, to help the participants to understood the design possibilities, and also they discovered some digital creation tools for 3D modelling and 3D scanning.
–
Third Day
Now was time for sketching and paper prototyping, while the two 3D printers start to print some examples and trials. Then they received some direct digital manufacturing design guidelines and the 3D modelling began.
–
Fourth Day
All working in their laptops to generate 3D models, from the sketches and paper prototypes to the digital world, a great challenge in short time.
–
Fifth Day
Last session to finish and validate 3D models to digital direct manufacturing, in some case was necessary an extra time, it was an intense week!!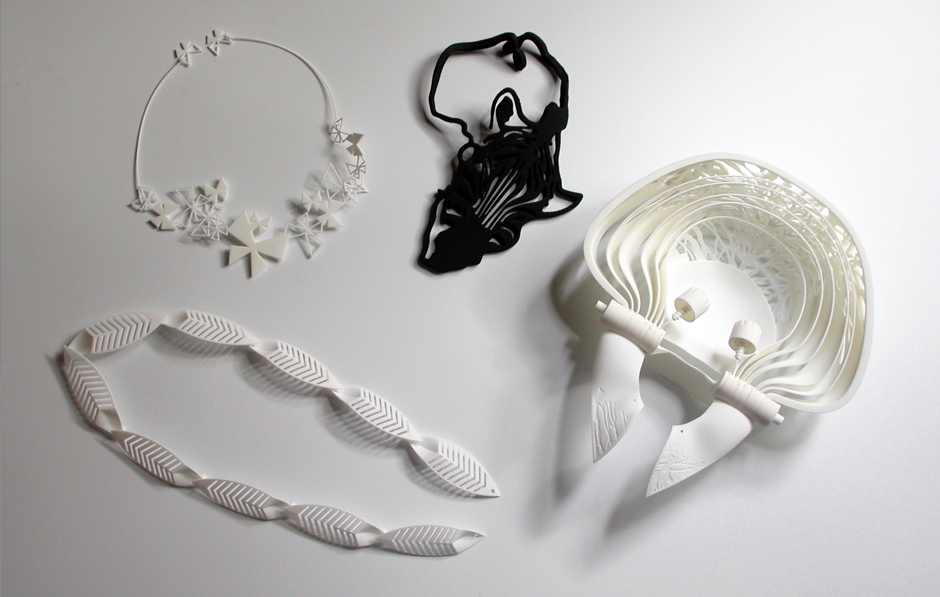 –
Results
The results of summer workshop in fashion and jewellery with 3D printing at Elisava, Barcelona School of Design and Engineering.
–
Participants
Anna Carolina Caldas
Vivian Campbell
Aruba Iglesias
Claudia Morales
Gisela Riba
Andrea Soler
–
Project / Hood
Vivian Campbell and Aruba Iglesias
–
Dimensions / XYZ
25 x 29 x 10 cm (folded)
–
Technology
Selective Laser Sintering (SLS)
–
Material
Polyamide / White
–
Project / Butterflies
Anna Carolina Caldas and Claudia Morales
–
Dimensions / XYZ
17 x 20 x 4 cm
–
Technology
Selective Laser Sintering (SLS)
–
Material
Polyamide / White
–
Project / Leaves
Andrea Soler
–
Dimensions / XYZ
23 x 60 x 2 cm (unfolded)
–
Technology
Selective Laser Sintering (SLS)
–
Material
Polyamide / White
–
Project / Zebra
Gisela Riba
–
Dimensions / XYZ
15 x 20 x 9 cm
–
Technology
Selective Laser Sintering (SLS)
–
Material
Elastomer / Black